You might have heard about CDN in the internet. Curious about what is it? Let me tell you a few words on CDN.
How CDN works?
CDN is Content Delivery Network. It consists of several servers or nodes distributed all over the world. If you upload a web page in a CDN server, it is sent and uploaded in all servers. So the user requesting your page receives data from the server nearest to him. This is Called Content Delivery Network. (CDN)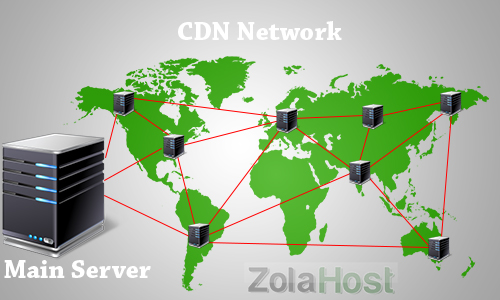 Difference Between Web Hosting and CDN
In web hosting, your web page is uploaded in only one server. Whereas in CDN, your web page is available from various nodes.
Web hosting servers don't usually handle more amounts of traffic efficiently. Due to sharing, other web sites in the same server will experience loading problems. But CDN is capable of handling large amounts of traffic and also it can mange peak rush.
In web hosting or shared hosting, your web page will take a long time to load if it contains videos or many images. But with CDN, average bandwidth speeds are sufficient to load websites with many images and videos.
In web hosting, your site is down if the server is down. But in CDN, your site stays online, even if you lose one or more servers.
When do you need CDN?
If your site typically contains more data, images and script than other pages, your page will load very slowly. If you have many visitors from worldwide, then you need a CDN. Because, since your web page is content rich, it will be slow and many visitors visiting your site at the same time will experience very bad loading issues. To avoid this, you need CDN. Alsop, CDN accepts small amounts of traffic too. This can help in saving your Bandwidth. If your page loads faster than others, the SEO ranking of your site will increase. This will attract more visitors. In such cases, CDN is the right choice for you to speed up your web pages' loading time.
Web Hosting With Free CDN
So you know now how CDN can help your site become insanely fast. Now can you believe if you can get CDN for free? Yeah! It's true.
ZolaHost provides free CDN with web hosting packages. The websites you create with us are guaranteed to be fast loading and reachable from all over the world.  We offer a variety of web hosting solutions for sites like .com, .net, .info. etc. you can also choose form a variety of designs to design your web site with us. The cost of opening a website with us is very low, and you get many specials like free CDN. We  also offer to maintain your site and update it regularly for reasonable pay.
Check us out for a hassle free and great web hosting experience with many more features and services. Start your website today with free CDN.