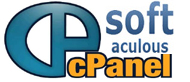 We offer Softaculous script installer for install the most popular scripts in a single click. You can install forum, blog, classifieds, wiki, e-commerce, gallery and more popular scripts within two minutes. Completely uninstall the script with a single click like a software installation in Windows PC. You can try the demo version of that scripts before installation and learn more about that script include reviews, features and ratings. Over 250+ scripts available in Softaculous script library always have these details for each script.
Video Tutorial
Why Need Softaculous?
Softaculous will automatically integrate that scripts into your website. All process are done by an automatic setup only, you don't need to do anything as manual. Just enter your username and password, then click submit button to complete the installation. Our script installer will create and configure everything needed for complete the installation automatically. You can access the admin panel and front-end of that script after once the installation is completed. At anytime you can uninstall the current script and install new one instead of that. But if you are remove the active script you will be lose your older data updated on that script. Otherwise you can install or uninstall the scripts at anytime via clicking the delete symbol always available in the script installation page as you wish.
Demo : Softaculous Demo
Softaculous In ZolaHost
ZolaHost is now offer to test the Softaculous script installer for free. You don't need to pay any extra fee for get a Softaculous. Its available in our cPanel also for free. Try our free demo before subscribe our web hosting package. Click below link to access a free demo of Softaculous with full features. Create a support ticket for get more help regarding this application. Our technical support team will helps you to improve your knowladge about these items.