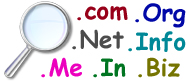 We offer privacy protection, DNS management and email forwarding for free with every most popular domain name extensions. These features will be activated once your domain is activated by our system. You can host your domain into any other free hosting providers have an addon domain feature like a blogger.com. If you don't know how to do that our technical support team will help you to do that via Teamviewer. We always offer video tutorials for manage your domain name.
Video Tutorial
Domain Search Engine
Our domain search engine helps to find out your domain name suggestion whether it's available or not. There are a lot of featured options available in our domain search. Our tools will helps you to register a domain name within two minutes. Your domain name will be activated automatically by our system once you complete the payment. Our system send a mail with the login details of your account that was created on ZolaHost. You can manage your domain name using that login details once your domain is activated. Otherwise you can access your billing and affiliate features.
Multiple Domain Search
In Multiple TLD option, you can search the domain name availability in all domain extensions or select the TLDs you want to search. For example, you can search domain name availability in multiple extensions (.Com, .Net,.Org, .Info, .In, .Us and more) with a single click. You can easily find out in which domain extensions you can register your domain name. And also you can register the domain name with that available extensions with a single click.
Bulk Domain Search
In Bulk Domain Search option, you can search more than five domains in a single click. For example, you can search the availability for multiple domain names (john.com, mathew.com, india.net, india.org and more). This feature will help for search all of your domain suggestions in a single click. You don't need to waste your time with searching every time for a single domain suggestion.
Please contact our support team through live chat or ticket system for more help regarding the domain name registration.