We have published this tutorial for changing the nameserver at BigRock in few simple steps. You must update the nameserver values of your domain for lookup to web hosting servers. Just follow our simple steps to change your BigRock domain's nameserver in few seconds.
Steps
1
Login to your BigRock account.

2 Visit –>Manage Orders–> List/Search Order to view the list of domain name registered by you. Click a domain name to open the settings page for which domain name you want to setup the nameservsers.

2 Click Nameserver to open the nameserver management page in a popup box. A popup box will appear with BigRock's default nameservsers.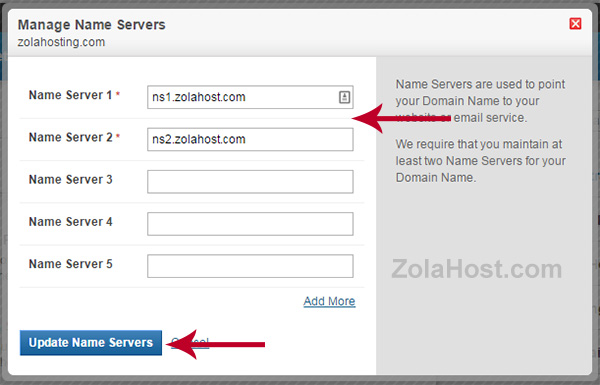 4 Delete the default values and enter the new values provided by your hosting company. We have entered our nameservers ns1.zolahost.com & ns2.zolahost.com for example.
Click update nameserver to save the changes. With in few minutes your domain's nameserver will be updated successfully.