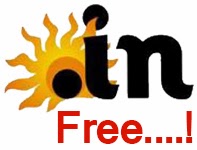 Our company, ZolaHost provides free .in domain for free of charge. This offer is valid for all webhosting plans registered with us, except the Basic Plan. This .in domain registration is completely free, with no additional charges. This free service is available only for a few more days. Hurry!
For get your Web Hosting with 25% Discount, Click Here now!
Promotional Code : 25FORALL
The Internet Country Code Top-Level for India is .in. The websites opened within India by Indian Companies are registered under this .in domain. There are some second level domains under this domain. Some of them are:
.co.in:

Used mostly for banks and registered companies of India.

.net.in:

This is for Internet service providers.

.firm.in:

Used for shops and firms.

.org.in:

This is used for Non Profit Organizations.

.ind.in:

This is for individuals.

.gen.in:

This is for general use.

.mil.in:

This is used by the military.

.edu.in:

This is for educational institutions.
Salient Features of Our Free Domain Registration:
DNS:

You will be provided free DNS management service for free with your .in domain.

CPanel:

We also provide you with a great CPanel for you. This is panel is very simple for easy operating, even if you are a novice designer. It is also powerful to give you the best control.

SubDomain:

You can create any number of SubDomains for our free .in domain.

Email:

We also provide your own email ID with your domain name. For E.g. [email protected].

Script Installation:

We can help you run any script you want like WordPress, Drupal or Joomla in your website. You can install more than 350+ popular scripts on your website in one click.

Virus Cleaner

: With our advanced Virus Cleaner Service, we can help you scan all your Scripts and Themes for viruses.
Sorry… .In Free Domain Offer is Not Available Right Now…!
For get your Web Hosting with 25% Discount, Click Here now!
Promotional Code : 25FORALL