Many of you must have been opening websites for your business and hobbies now. There is one important factor in a website that should be chosen with care – The Domain Name. Let's see about domain names and how our domain names can be used with Blogger.com.
What makes domain names important?
Domain names are like nick names for your websites. They are the address and identity of your website on the world of internet.
So they have to be
Easy to remember.
Unique and special.
Short and catchy.
They should relate to you or say about you or your business.
Procedure for registering a domain:
The domain name system is the service that takes care of registering the domain names. The DNS contains records of all domain names. Your web page's domain name is considered yours only when it is registered with the DNS.
The domain name usually looks like www.example.com. In this, the right most side of the domain name is the Top Level Domain. You have to choose a TLD that describes your site best. Some commonly used TLDs and their descriptions are:
.com: This is commonly used for all kinds of websites. Since it is very old and highly used, most of the good and unique names have been occupied here already.
.org: This denotes an organization.
.gov: This is used for government pages and sites.
.biz: This means that the site is a business site.
.info: This shows that the page is a collection of information.
.au, .in, .uk: Country codes. [Australia, India, United Kingdom]
Domain name for Blogger.com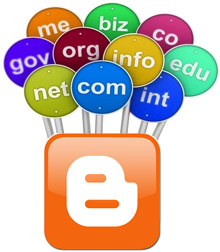 The website Blogger.com is a well known website creator. Many people use Blogger to open up their websites. Unfortunately Blogger.com does not provide custom domain name registration service. You cannot choose your domain name with them. They provide half of the service and you will have to choose another company for registering your domain name.
To open your webpage at Blogger.com and also choose your custom domain name, you can use our domain selling and buying service. Our company, ZolaHost provides domain name buying, selling, renewal, transferring and registering services. So you can buy a domain name form us and you can use it on Blogger.com. Thus you can use Blogger with your custom domain name. You will also get to know our excellent services and offers.
We can help register your domain in TLD such as .com, .org, .gov, .info, .net, etc. we take care of all services related to your domain name registration.
Services by ZolaHost:
We offer quality web hosting solution and domain registration services at Zola Host. Our designers are creative and trained to make your web page look modern and simple in minutes. W also offer an array of options in web hosting such as VIPs, dedicated hosting, Reseller Hosting, Cloud Hosting, etc. we also guarantee world class quality and 24X7 customer support.
What's more? Visit our Domain Search now!