You can able to add extra domain name in cPanel through "Addon Domains" option. In 4 simple steps you can add a domain name into the cPanel. Just follow the tutorial given below to find out how to add an extra domain into cPanel.
You need to lookup your domain name to our servers via change the nameservers before add a domain if you got a domain from other service provider. If you got a domain name from our ZolaHost that domain lookup to our servers automatically.
Basic & Advanced plans only restricted to host more than one domain per cPanel.  Otherwise you can host more domains if addon domains are available for your hosting account.
Step 1 : Login to your cPanel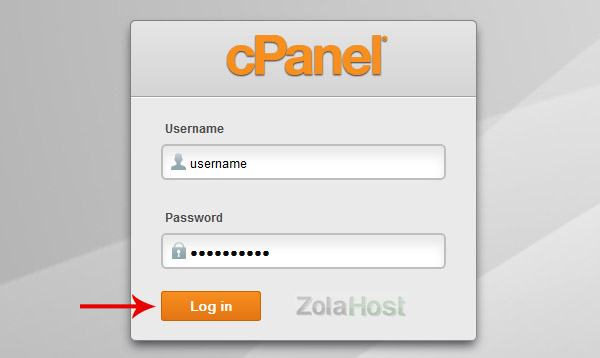 Step 2 : Click "Addon Domains" option available inside the "Domains" section.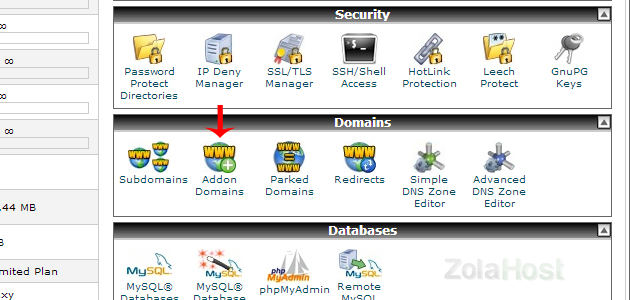 Step 3 : Enter your domain name and password, FTP Username and Document will be automatically displayed by our system. Then click "Add Domain" to complete the process of add a domain to cPanel.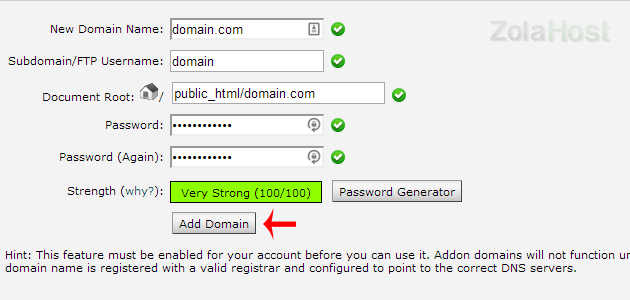 Step 4 : Your domain has been successfully added to cPanel if a green message have displayed like in the image given below. Click "Go Back" to the previous page and access all domain names added by you.

Step 5 : In this page, You can manage or remove domain names from cPanel in a single click.